We create intelligent ERP solutions for process automation in different business areas!
Since 2003 Pronet LLC, the manufacturer of specialized programs in the field of corporate work solutions in Azerbaijan has implemented a number of large IT projects. As a result, the company has developed new products and introduced numerous innovations. At the heart of our work is the value-based approach that integrates new ideas and relevant technologies. Thanks to our yearlong experience in the field of information technology and a carefully designed feedback concept we continue to develop innovative, quality, advanced and sustainable solutions for the entrepreneurs. Key to our competitiveness and success is a combination of work with multi-disciplined specialists alongside the monitoring of world class know-hows and their effective application. We develop powerful and easy-to-use solutions that address the problem from the right angle and ensure ROI, which gains us an ever growing customer loyalty. As a result, we are steadily building an Azerbaijani ERP solutions brand to streamline business management activities of our clients.
The successes achieved while rising to the leadership stage, as well as the intense and continuous work behind it, allow us to proudly present our achievements today.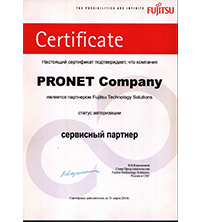 Fujitsu Technology Solutions confirmed the status of the PRONET company, providing it with the Service Partner Certificate.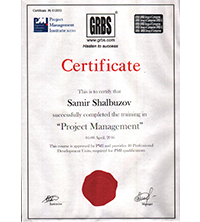 In 2016, the project manager of PRONET Samir Shalbuzov was awarded a certificate for successful completion of training on "Project Management" by Project Management Institute and GRBS.
By assigning the certificate of a distributor to PRONET, Fujitsu Technology Solutions provided it with a certificate confirming permission for official sales in the country.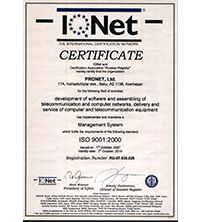 In October 2007, the Association of Certificates "Russian Registration" and IQNet provided PRONET with a Certificate in System Management for developing and installing software for telecommunications and computer networks, delivering and maintaining computers and telecommunications equipment.