We create intelligent ERP solutions for process automation in different business areas!
Since 2003 Pronet LLC, the manufacturer of specialized programs in the field of corporate work solutions in Azerbaijan has implemented a number of large IT projects. As a result, the company has developed new products and introduced numerous innovations. At the heart of our work is the value-based approach that integrates new ideas and relevant technologies. Thanks to our yearlong experience in the field of information technology and a carefully designed feedback concept we continue to develop innovative, quality, advanced and sustainable solutions for the entrepreneurs. Key to our competitiveness and success is a combination of work with multi-disciplined specialists alongside the monitoring of world class know-hows and their effective application. We develop powerful and easy-to-use solutions that address the problem from the right angle and ensure ROI, which gains us an ever growing customer loyalty. As a result, we are steadily building an Azerbaijani ERP solutions brand to streamline business management activities of our clients.
The successes achieved while rising to the leadership stage, as well as the intense and continuous work behind it, allow us to proudly present our achievements today.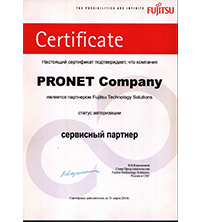 Fujitsu Technology Solutions confirmed the status of the PRONET company, providing it with the Service Partner Certificate.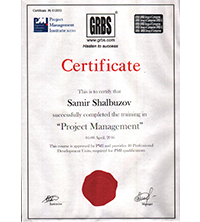 In 2016, the project manager of PRONET Samir Shalbuzov was awarded a certificate for successful completion of training on "Project Management" by Project Management Institute and GRBS.
By assigning the certificate of a distributor to PRONET, Fujitsu Technology Solutions provided it with a certificate confirming permission for official sales in the country.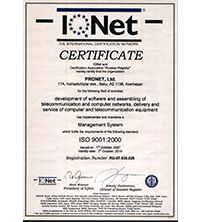 In October 2007, the Association of Certificates "Russian Registration" and IQNet provided PRONET with a Certificate in System Management for developing and installing software for telecommunications and computer networks, delivering and maintaining computers and telecommunications equipment.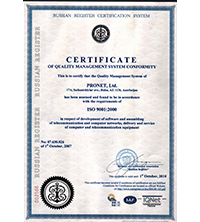 In 2010, PRONET Prospect ERP was awarded the Quality Certificate of the Management System by the Certification System of the Russian Federation.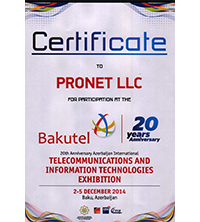 In honor of the 20th anniversary of the Azerbaijan Telecommunications and Information Technologies Exhibition Bakutel in 2014, PRONET was awarded a certificate of participation.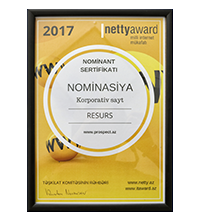 In 2017, the PRONET Prospect ERP's website www.prospect.az. was awarded with the National Internet Award NETTY in the corporate site nomination.
By providing PRONET Prospect ERP with a Service Partner Certificate, Fujitsu Technology Solutions confirmed the company's status.
In 2014, Sergey Firstov, the system administrator of PRONET, received a certificate after completing training on network technologies from CISCO.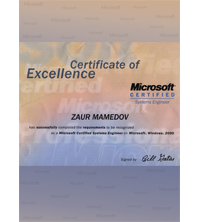 Zaur Mamedov, PRONET Prospect ERP's CTO, took part in the Microsoft training in 2000 and received a system engineer certificate.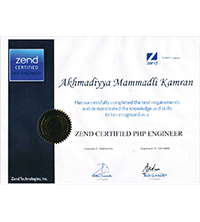 PRONET Prospect ERP's Software Production Manager Ahmed Mammadli received the "PHP Engineer" certificate from ZEND The PHP Company.
OUR MISSION
Customer appreciation comes first for us
Our customers are a source of inspiration for us. Customer satisfaction lies in the heart of Pronet's job philosophy and we always strive to meet their needs. Success of our customers is our success and we are working hard to ensure that they are equipped with advanced products to run the business.
We are constantly introducing innovations
As an innovations-driven company we are committed to the rapid development that is our main competitive advantage. Our products, workflows and business approach are aimed at continuous self-improvement. The same standards of continuous self-improvement applied to the company as a whole. Our employees are tracking the latest technological innovations and know-hows 24/7, which is why company's products are relevant and up-to-date.
The result is important for us
We realize that our products play a key role in optimizing processes for the plenty of the customers. This is why we maximize our efforts for the successful completion of the projects. Right from the onset, Pronet was committed to the highest working standards. The same applies to our employees who are abide by the highest quality standards We firmly believe that you get what you give, hence paying a close attention and respect to the input and time of our employees.
We value everyone's time and efforts
We constantly follow the advanced innovations The basis of our business is innovation. Our advantage in competition is the speed of our development. Our products, processes and our approach are aimed at continuous development. Our demands for ourselves are growing every day. Even outside of daily activities, each of our employees keeps track of the latest innovations.
The future is always in our mind
We are aware that the solutions we create and the services we provide are intended to optimize business processes and will be used by a large number of people. As our final goal is to get positive results in the future we employ an exclusively professional approach while working on the projects.
We understand the problems and solve them on time
To articulate a problem is a tiny part of the work. What is important is to provide a timely solution. The proper solution comes with the understanding of problem objectives. Each company, each client follows its own ways to solve difficult situations. Our troubleshooting solutions are tailored to the company's requirements, and hence are effective and relevant. We do not only eliminate the problem, we carefully analyze all areas that have suffered the damage in order to ensure a coherent solution.